Introducing the Bethyl Laboratories SARS-CoV-2 IgG and IgM ELISA Kits
Severe acute respiratory syndrome coronavirus 2 (SARS-CoV-2), a novel coronavirus responsible for the ongoing coronavirus disease 2019 (COVID-19) pandemic, first emerged in late 2019. As the public health and economic impacts of COVID-19 continue worldwide, the need for appropriate antibody tests is increasing. In contrast to diagnostic tests which detect the virus itself, antibody tests assess immune response to SARS-CoV-2 infection via detection of antibodies in blood or serum. Such tests are valuable for understanding the infection and true mortality rates and subsequently informing public health policies aimed at containing the virus.
As of July 2020, the FDA has granted Emergency Use Authorization to about two dozen SARS-CoV-2 serology tests.1 These authorized tests have various target antigens and antibody classes and utilize different technologies including chemiluminescent microparticle immunoassay, chemiluminescent assay, microsphere-based immunoassay, lateral flow assay, electro-chemiluminescence assay, and enzyme-linked immunosorbent assay (ELISA). While each of these test types can be used to assess SARS-CoV-2 infection, each has its own strengths and limitations.
The ELISA carries several advantages compared to other testing methodologies. Minimal instrumentation is required, and it has a lower technological burden. As such, it can be deployed worldwide, including in lower resource settings. Able to produce results in a few hours, the ELISA can detect the presence (quantitative) or absence of antibodies against the SARS-CoV-2 virus in patient serum.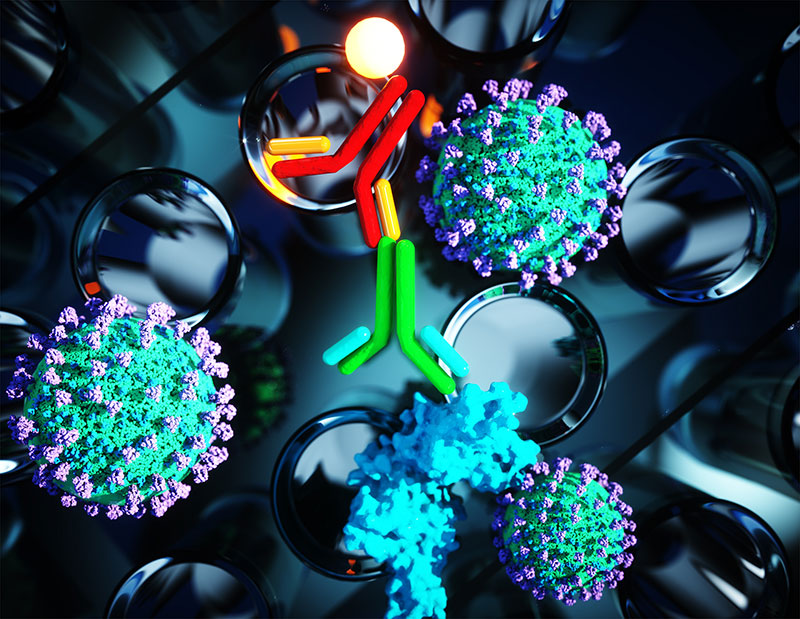 The Bethyl Laboratories SARS-CoV-2 IgG and IgM ELISA kits are intended for semiquantitative detection of IgG or IgM antibodies, respectively, to SARS-CoV-2 in human serum or plasma. It is a rapid and highly sensitive assay that detects antibodies against the receptor binding domain (RBD) of the spike protein of SARS-CoV-2, which is unique among coronaviruses and thus unlikely to induce cross-reactivity.2 Indeed, recent work indicates the recombinant SARS-CoV-2 RBD antigen is highly sensitive and specific for antibodies induced by SARS-CoVs, supporting the use of RBD-based antibody assays for population-level surveillance.3 Performance characteristics of the Bethyl IgG and IgM ELISA kits are consistent with these findings; additional details regarding assay principle and performance characteristics can be found in the product datasheets.4,5