Home
/
Anti-Human Immunoglobulins
Purified immunoglobulins are used as analytes or controls in assays that include Western Blot, Immunoprecipitation, Immunofluorescence, Flow Cytometry, ELISA and more. Our range of products are extensively tested to ensure high quality, that meets the required standards for your assays.
We produce a range of purified antibody IgG fragments, including Kappa, Lambda and F(ab')2, with our additional range of immunoglobulins including bovine, rabbit, sheep and more.
Fortis Life Sciences guarantees that its products will work under the same conditions stated on the product datasheet.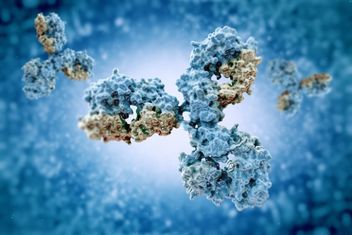 95% of orders delivered in 24 hours
Bulk Request
Request bulk quantities of our high quality antibodies to enable your large-scale projects.
Request a quote and share items with your colleagues or purchasing team by adding to a shareable list.
What are Immunoglobulins?
Immunoglobulins - sometimes just referred to as 'antibodies' are Y-shaped proteins produced by the white blood cells, that are used by the immune system to neutralize bacteria and viruses. As part of an immune response, immunoglobulins recognize and bind to particular antigens to destroy the target cell.
There are five primary classes of immunoglobulins - IgG, IgM, IgA, IgD and IgE, all of which are distinguished by the type of chains found in the molecule. The differences in chain polypeptides are what are responsible for different immune responses from each of the five classes listed above.
The Fortis Life Sciences Difference
High Quality Products
Leading Technical Support
One-day Shipping on 95% of Products
Fortis is dedicated to supporting scientific discovery through its qualified antibody products and custom polyclonal antibody service, and serves to advance science by developing qualified antibodies for emerging and underserved protein targets.
Our portfolio consists of over 9,500 catalog products, offering over 8,000 primary antibodies, targeting over 3,000 proteins and 1,000 secondary antibodies raised against immunoglobulins from over 25 species.
Every antibody that Fortis sells has been manufactured to exacting standards at its sole location in Montgomery, Texas, and has been validated in-house by Fortis' team of scientists. From the veterinary facilities to the development, production and validation labs, the entire Bethyl team focuses on delivering quality products.
Bethyl Laboratories is committed to the welfare of animals as reflected by the company's core values. As a USDA-registered research facility, Bethyl's practices strictly adhere to the Animal Welfare Act.
USDA Class R Research Facility Registration #74-R-0044
PHS/NIH/OLAW Animal Welfare #A3991-01