System.Dynamic.ExpandoObject
{"mainImage":null,"url":"/purified-human-fabkappa-igg-fragment/p/P80-115","hasPriceRange":false,"content":{"productImages":[],"productName":"Purified Human Fab/Kappa, IgG fragment","metaTagTitle":"Purified Human Fab/Kappa, IgG fragment","metaTagDescription":"Bethyl Laboratories® Purified Human Fab/Kappa, IgG fragment - 1 mg","seoFriendlyUrl":"purified-human-fabkappa-igg-fragment"},"categories":[{"url":"/antigen-proteins/c/24","categoryId":24,"content":{"categoryImages":[],"name":"Antigen Proteins","description":"","pageTitle":"","metaTagTitle":"Buy Antigen Proteins","metaTagDescription":"Filter through our wide selection of antigen proteins, considering the target, application, host and more to find the ideal antigen for you.","metaTagKeywords":"","slug":"antigen-proteins"},"childrenCategories":[],"parentCategoryId":23,"sequence":1,"isDisplayed":true,"categoryCode":"antigen-proteins","count":0}],"price":{"onSale":false,"price":182.0000,"priceType":"List","catalogListPrice":182.0000,"effectivePricelistCode":"BETHYL","priceListEntryCode":"BETHYL","priceListEntryMode":"Simple"},"volumePriceBands":[],"productCode":"P80-115","productSequence":182,"productUsage":"Standard","fulfillmentTypesSupported":["DirectShip"],"goodsType":"Physical","bundledProducts":[],"purchasableState":{"isPurchasable":true},"isActive":true,"publishState":"Live","availableShippingDiscounts":[],"productType":"Antibody","productTypeId":4,"isTaxable":true,"pricingBehavior":{"discountsRestricted":false,"discountsRestrictedStartDate":null,"discountsRestrictedEndDate":null},"inventoryInfo":{"manageStock":true,"outOfStockBehavior":"AllowBackOrder","onlineStockAvailable":1338,"onlineSoftStockAvailable":1338,"onlineLocationCode":"51694"},"createDate":"2021-10-13T15:52:07.343Z","updateDate":"2021-11-27T20:16:00.304Z","dateFirstAvailableInCatalog":"2021-01-01T00:00:00Z","daysAvailableInCatalog":392,"upCs":[],"mfgPartNumbers":[],"measurements":{"packageWeight":{"unit":"lbs","value":1.000}},"properties":[{"attributeFQN":"tenant~product-type","isHidden":false,"isMultiValue":false,"attributeDetail":{"valueType":"Predefined","inputType":"List","dataType":"String","usageType":"Property","dataTypeSequence":58,"name":"Product Type","description":"","searchableInStorefront":true,"searchDisplayValue":true,"allowFilteringAndSortingInStorefront":true,"customWeightInStorefrontSearch":false},"values":[{"value":"Purified Protein","stringValue":"Purified Protein"}],"propertyType":"StandardProperty"},{"attributeFQN":"tenant~brand","isHidden":false,"isMultiValue":false,"attributeDetail":{"valueType":"Predefined","inputType":"List","dataType":"String","usageType":"Property","dataTypeSequence":46,"name":"Brand","description":"","searchableInStorefront":true,"searchDisplayValue":true,"allowFilteringAndSortingInStorefront":true,"customWeightInStorefrontSearch":false},"values":[{"value":"Bethyl Laboratories®","stringValue":"Bethyl Laboratories®"}],"propertyType":"StandardProperty"},{"attributeFQN":"tenant~alt-target","isHidden":true,"isMultiValue":false,"attributeDetail":{"valueType":"AdminEntered","inputType":"TextBox","dataType":"String","usageType":"Property","dataTypeSequence":17,"name":"AltTarget","description":"","searchableInStorefront":true,"allowFilteringAndSortingInStorefront":true,"customWeightInStorefrontSearch":false},"values":[{"value":"Fab/Kappa","stringValue":"Fab/Kappa"}],"propertyType":"StandardProperty"},{"attributeFQN":"tenant~amount","isHidden":false,"isMultiValue":false,"attributeDetail":{"valueType":"AdminEntered","inputType":"TextBox","dataType":"String","usageType":"Property","dataTypeSequence":24,"name":"Amount","description":"","searchDisplayValue":true,"allowFilteringAndSortingInStorefront":true,"customWeightInStorefrontSearch":false},"values":[{"value":"1 ml","stringValue":"1 ml"}],"propertyType":"StandardProperty"},{"attributeFQN":"tenant~spec-sheet-links","isHidden":false,"isMultiValue":false,"attributeDetail":{"valueType":"AdminEntered","inputType":"TextArea","dataType":"String","usageType":"Property","dataTypeSequence":64,"name":"Spec Sheet Links","description":"","allowFilteringAndSortingInStorefront":true,"customWeightInStorefrontSearch":false},"values":[{"value":"9fd8fb9e5c3fe83c8a22ed1d23d770059477bb24|64c95540c","stringValue":"9fd8fb9e5c3fe83c8a22ed1d23d770059477bb24|64c95540c2fba6f3a0bbd4d6c6f16932861d4508|179c7b9bdd0778dfbc22a1ae1130805e3487cf8b|130fd516ceb1b9add7eaa158de6bbe5d7e225ea2"}],"propertyType":"StandardProperty"},{"attributeFQN":"tenant~antigen-species","isHidden":false,"isMultiValue":false,"attributeDetail":{"valueType":"Predefined","inputType":"List","dataType":"String","usageType":"Property","dataTypeSequence":29,"name":"Antigen Species","description":"","searchDisplayValue":true,"allowFilteringAndSortingInStorefront":true,"customWeightInStorefrontSearch":false},"values":[{"value":"Human","stringValue":"Human"}],"propertyType":"StandardProperty"},{"attributeFQN":"tenant~stock-behavior","isHidden":true,"isMultiValue":false,"attributeDetail":{"valueType":"Predefined","inputType":"List","dataType":"String","usageType":"Property","dataTypeSequence":68,"name":"Stock Behavior","description":"","allowFilteringAndSortingInStorefront":true,"customWeightInStorefrontSearch":false},"values":[{"value":"AcceptBackorder","stringValue":"AcceptBackorder"}],"propertyType":"StandardProperty"},{"attributeFQN":"tenant~citation-count","isHidden":false,"isMultiValue":false,"attributeDetail":{"valueType":"AdminEntered","inputType":"TextBox","dataType":"Number","usageType":"Property","dataTypeSequence":7,"name":"CitationCount","description":"","searchDisplayValue":true,"allowFilteringAndSortingInStorefront":true,"customWeightInStorefrontSearch":false},"values":[{"value":2}],"propertyType":"StandardProperty"},{"attributeFQN":"tenant~stock-concentration","isHidden":false,"isMultiValue":false,"attributeDetail":{"valueType":"AdminEntered","inputType":"TextBox","dataType":"String","usageType":"Property","dataTypeSequence":73,"name":"Stock Concentration","description":"","searchDisplayValue":true,"allowFilteringAndSortingInStorefront":true,"customWeightInStorefrontSearch":false},"values":[{"value":"1 mg/ml","stringValue":"1 mg/ml"}],"propertyType":"StandardProperty"},{"attributeFQN":"tenant~application-text","isHidden":false,"isMultiValue":false,"attributeDetail":{"valueType":"AdminEntered","inputType":"TextBox","dataType":"String","usageType":"Property","dataTypeSequence":32,"name":"Application Text","description":"","searchDisplayValue":true,"allowFilteringAndSortingInStorefront":true,"customWeightInStorefrontSearch":false},"values":[{"value":"Used as a positive control in immunoassays. Serum ","stringValue":"Used as a positive control in immunoassays. Serum or plasma from donor has been tested and found negative for HIV-1 antigen, antibodies for HIV and HCV, and non-reactive for HBsAg, HIV-1 RNA, and HCV RNA. Not tested for Anti-HBc. HANDLE AS IF CAPABLE OF TRANSMITTING INFECTIOUS AGENTS."}],"propertyType":"StandardProperty"},{"attributeFQN":"tenant~storage","isHidden":false,"isMultiValue":false,"attributeDetail":{"valueType":"Predefined","inputType":"List","dataType":"String","usageType":"Property","dataTypeSequence":11,"name":"Storage","description":"","searchDisplayValue":true,"allowFilteringAndSortingInStorefront":true,"customWeightInStorefrontSearch":false},"values":[{"value":"2 - 8 °C","stringValue":"2 - 8 °C"}],"propertyType":"StandardProperty"},{"attributeFQN":"tenant~sds-links","isHidden":false,"isMultiValue":false,"attributeDetail":{"valueType":"AdminEntered","inputType":"TextArea","dataType":"String","usageType":"Property","dataTypeSequence":42,"name":"SDS Links","description":"","allowFilteringAndSortingInStorefront":true,"customWeightInStorefrontSearch":false},"values":[{"value":"823e15615d0412b38f12bd403a1092448583dc8d","stringValue":"823e15615d0412b38f12bd403a1092448583dc8d"}],"propertyType":"StandardProperty"},{"attributeFQN":"tenant~target","isHidden":false,"isMultiValue":false,"attributeDetail":{"valueType":"AdminEntered","inputType":"TextBox","dataType":"String","usageType":"Property","dataTypeSequence":18,"name":"Target","description":"","searchDisplayValue":true,"allowFilteringAndSortingInStorefront":true,"customWeightInStorefrontSearch":false},"values":[{"value":"Human Fab/Kappa IgG fragment","stringValue":"Human Fab/Kappa IgG fragment"}],"propertyType":"StandardProperty"},{"attributeFQN":"tenant~current-lot","isHidden":false,"isMultiValue":false,"attributeDetail":{"valueType":"AdminEntered","inputType":"TextBox","dataType":"String","usageType":"Property","dataTypeSequence":38,"name":"Current Lot","description":"","searchableInStorefront":true,"searchDisplayValue":true,"allowFilteringAndSortingInStorefront":true,"customWeightInStorefrontSearch":false},"values":[{"value":"11","stringValue":"11"}],"propertyType":"StandardProperty"},{"attributeFQN":"tenant~shelf-life","isHidden":false,"isMultiValue":false,"attributeDetail":{"valueType":"Predefined","inputType":"List","dataType":"String","usageType":"Property","dataTypeSequence":52,"name":"Shelf Life","description":"","searchDisplayValue":true,"allowFilteringAndSortingInStorefront":true,"customWeightInStorefrontSearch":false},"values":[{"value":"2 years from date of receipt","stringValue":"2 years from date of receipt"}],"propertyType":"StandardProperty"},{"attributeFQN":"tenant~sku-status","isHidden":true,"isMultiValue":false,"attributeDetail":{"valueType":"Predefined","inputType":"List","dataType":"String","usageType":"Property","dataTypeSequence":56,"name":"SKU status","description":"","allowFilteringAndSortingInStorefront":true,"customWeightInStorefrontSearch":false},"values":[{"value":"Active","stringValue":"Active"}],"propertyType":"StandardProperty"},{"attributeFQN":"tenant~buffer","isHidden":false,"isMultiValue":false,"attributeDetail":{"valueType":"AdminEntered","inputType":"TextBox","dataType":"String","usageType":"Property","dataTypeSequence":51,"name":"Buffer","description":"","searchDisplayValue":true,"allowFilteringAndSortingInStorefront":true,"customWeightInStorefrontSearch":false},"values":[{"value":"Phosphate Buffered Saline (PBS) containing 0.1% So","stringValue":"Phosphate Buffered Saline (PBS) containing 0.1% Sodium Azide"}],"propertyType":"StandardProperty"},{"attributeFQN":"tenant~web-category","isHidden":false,"isMultiValue":false,"attributeDetail":{"valueType":"AdminEntered","inputType":"TextBox","dataType":"String","usageType":"Property","dataTypeSequence":63,"name":"Web Category","description":"","searchDisplayValue":true,"allowFilteringAndSortingInStorefront":true,"customWeightInStorefrontSearch":false},"values":[{"value":"Antigen Proteins","stringValue":"Antigen Proteins"}],"propertyType":"StandardProperty"},{"attributeFQN":"tenant~host","isHidden":false,"isMultiValue":false,"attributeDetail":{"valueType":"Predefined","inputType":"List","dataType":"String","usageType":"Property","dataTypeSequence":72,"name":"Host","description":"","searchDisplayValue":true,"allowFilteringAndSortingInStorefront":true,"customWeightInStorefrontSearch":false},"values":[{"value":"Human","stringValue":"Human"}],"propertyType":"StandardProperty"},{"attributeFQN":"tenant~productnamelong","isHidden":false,"isMultiValue":false,"attributeDetail":{"valueType":"AdminEntered","inputType":"TextBox","dataType":"String","usageType":"Property","dataTypeSequence":62,"name":"ProductNameLong","description":"","searchableInStorefront":true,"searchDisplayValue":true,"allowFilteringAndSortingInStorefront":true,"customWeightInStorefrontSearch":false},"values":[{"value":"Bethyl Laboratories® Purified Human Fab/Kappa, IgG","stringValue":"Bethyl Laboratories® Purified Human Fab/Kappa, IgG fragment - 1 mg"}],"propertyType":"StandardProperty"},{"attributeFQN":"tenant~physical-state","isHidden":false,"isMultiValue":false,"attributeDetail":{"valueType":"Predefined","inputType":"List","dataType":"String","usageType":"Property","dataTypeSequence":39,"name":"Physical State","description":"","searchDisplayValue":true,"allowFilteringAndSortingInStorefront":true,"customWeightInStorefrontSearch":false},"values":[{"value":"Liquid","stringValue":"Liquid"}],"propertyType":"StandardProperty"},{"attributeFQN":"tenant~web-quantity-standard","isHidden":false,"isMultiValue":false,"attributeDetail":{"valueType":"AdminEntered","inputType":"TextBox","dataType":"String","usageType":"Property","dataTypeSequence":71,"name":"Web Quantity-standard","description":"","searchDisplayValue":true,"allowFilteringAndSortingInStorefront":true,"customWeightInStorefrontSearch":false},"values":[{"value":"1 mg","stringValue":"1 mg"}],"propertyType":"StandardProperty"},{"attributeFQN":"tenant~productnameshort","isHidden":false,"isMultiValue":false,"attributeDetail":{"valueType":"AdminEntered","inputType":"TextBox","dataType":"String","usageType":"Property","dataTypeSequence":66,"name":"ProductNameShort","description":"","searchableInStorefront":true,"searchDisplayValue":true,"allowFilteringAndSortingInStorefront":true,"customWeightInStorefrontSearch":false},"values":[{"value":"Purified Human Fab/Kappa, IgG fragment","stringValue":"Purified Human Fab/Kappa, IgG fragment"}],"propertyType":"StandardProperty"},{"attributeFQN":"tenant~prodprocedures-1","isHidden":false,"isMultiValue":false,"attributeDetail":{"valueType":"AdminEntered","inputType":"TextBox","dataType":"String","usageType":"Property","dataTypeSequence":54,"name":"Prod Procedures","description":"","searchDisplayValue":true,"allowFilteringAndSortingInStorefront":true,"customWeightInStorefrontSearch":false},"values":[{"value":"Purified normal human Fab/kappa was prepared from ","stringValue":"Purified normal human Fab/kappa was prepared from purified IgG using papain digestion and affinity chromatography.\u003cbr\u003e\u003cbr\u003eProtein concentration was determined by extinction coefficient: absorbance at 280 nm of 1.4 equals 1.0 mg of Fab/kappa.\u003cbr\u003e\u003cbr\u003eBy immunoelectrophoresis the Fab/kappa was shown to 1) react with antiserum specific for human kappa light chains, 2) not react with antiserum specific for IgG-Fc or lambda light chain and 3) produce a single precipitin arc with antiserum against human serum identical to that produced with anti-kappa.\u003cbr\u003e\u003cbr\u003eBy ELISA the Fab/kappa contains less than 0.1% of IgG, IgA, IgM and lambda."}],"propertyType":"StandardProperty"}],"options":[],"variations":[],"validPriceLists":[],"locationsInStock":[],"productImageGroups":[],"productCollections":[],"productCollectionMembers":[],"collectionMembersProductContent":[]}
Purified Human Fab/Kappa, IgG fragment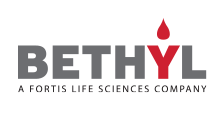 Bethyl Laboratories® Catalog # P80-115
Target:
Human Fab/Kappa IgG fragment
For ordering information, see our International Distributors
Product Details
Specifications
2 years from date of receipt
Purified normal human Fab/kappa was prepared from purified IgG using papain digestion and affinity chromatography.

Protein concentration was determined by extinction coefficient: absorbance at 280 nm of 1.4 equals 1.0 mg of Fab/kappa.

By immunoelectrophoresis the Fab/kappa was shown to 1) react with antiserum specific for human kappa light chains, 2) not react with antiserum specific for IgG-Fc or lambda light chain and 3) produce a single precipitin arc with antiserum against human serum identical to that produced with anti-kappa.

By ELISA the Fab/kappa contains less than 0.1% of IgG, IgA, IgM and lambda.
Fortis Guarantee
Guaranteed Performance, Excellent Service!
Applications
Used as a positive control in immunoassays. Serum or plasma from donor has been tested and found negative for HIV-1 antigen, antibodies for HIV and HCV, and non-reactive for HBsAg, HIV-1 RNA, and HCV RNA. Not tested for Anti-HBc. HANDLE AS IF CAPABLE OF TRANSMITTING INFECTIOUS AGENTS.