PathPlex® Multiplex Antibodies
We've applied our +45 years of antibody manufacturing experience to IHC PathPlex® panels that are preformatted and optimized to work together. This saves time / money and leads to stronger signals. Each antibody has been validated for IHC and utilized in a multiplex format by our own scientists via proprietary processes to ensure the highest quality. Quickly detect multiple antigens in a single tissue section to gain a clear understanding of the tumor microenvironment without compromising samples with Bethyl PathPlex® panels.
Multiplex immunohistochemistry allows the researcher to visualize multiple biomarker proteins on a single tissue sample. The application of multiplex immunohistochemistry not only allows the researcher to identify which cells contain the biomarkers of interest but also details the spatial arrangements of cells allowing a deeper understanding of the underlying biology. The applications of multiplex immunohistochemistry are numerous and span clinical, translational, and basic research applications.
Core panels are listed below. Additional antibodies can be purchased depending on your research needs.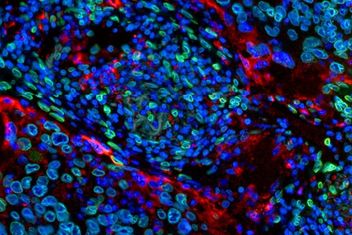 95% of orders delivered in 24 hours
Bulk Request
Request bulk quantities of our high quality antibodies to enable your large-scale projects.
Request a quote and share items with your colleagues or purchasing team by adding to a shareable list.