System.Dynamic.ExpandoObject
{"mainImage":null,"url":"/goat-anti-mouse-albumin-cross-adsorbed-antibody-hrp-conjugated/p/A90-234P","hasPriceRange":false,"content":{"productImages":[],"productName":"Goat anti-Mouse Albumin Cross-Adsorbed Antibody HRP Conjugated","metaTagTitle":"Goat anti-Mouse Albumin Cross-Adsorbed Antibody HRP Conjugated","metaTagDescription":"Bethyl Laboratories® Goat anti-Mouse Albumin Cross-Adsorbed Antibody HRP Conjugated - 0.5 mg","seoFriendlyUrl":"goat-anti-mouse-albumin-cross-adsorbed-antibody-hrp-conjugated"},"categories":[{"url":"/primary-antibodies/c/13","categoryId":13,"content":{"categoryImages":[],"name":"Primary Antibodies","description":"","pageTitle":"","metaTagTitle":"Buy Primary Antibodies","metaTagDescription":"Browse our complete range of validated secondary antibodies available for purchase. Filter through antibodies by target, application, host and more","metaTagKeywords":"","slug":"primary-antibodies"},"childrenCategories":[],"parentCategoryId":12,"sequence":1,"isDisplayed":true,"categoryCode":"primary-antibodies","count":0}],"price":{"onSale":false,"price":191.0000,"priceType":"List","catalogListPrice":191.0000,"effectivePricelistCode":"BETHYL","priceListEntryCode":"BETHYL","priceListEntryMode":"Simple"},"volumePriceBands":[],"productCode":"A90-234P","productSequence":178,"productUsage":"Standard","fulfillmentTypesSupported":["DirectShip"],"goodsType":"Physical","bundledProducts":[],"purchasableState":{"isPurchasable":true},"isActive":true,"publishState":"Live","availableShippingDiscounts":[],"productType":"Antibody","productTypeId":4,"isTaxable":true,"pricingBehavior":{"discountsRestricted":false,"discountsRestrictedStartDate":null,"discountsRestrictedEndDate":null},"inventoryInfo":{"manageStock":true,"outOfStockBehavior":"AllowBackOrder","onlineStockAvailable":5,"onlineSoftStockAvailable":5,"onlineLocationCode":"51694"},"createDate":"2021-10-13T15:51:52.393Z","updateDate":"2022-01-13T06:15:37.164Z","dateFirstAvailableInCatalog":"2021-01-01T00:00:00Z","daysAvailableInCatalog":383,"upCs":[],"mfgPartNumbers":[],"measurements":{"packageWeight":{"unit":"lbs","value":1.000}},"properties":[{"attributeFQN":"tenant~product-type","isHidden":false,"isMultiValue":false,"attributeDetail":{"valueType":"Predefined","inputType":"List","dataType":"String","usageType":"Property","dataTypeSequence":58,"name":"Product Type","description":"","searchableInStorefront":true,"searchDisplayValue":true,"allowFilteringAndSortingInStorefront":true,"customWeightInStorefrontSearch":false},"values":[{"value":"Antibody","stringValue":"Antibody"}],"propertyType":"StandardProperty"},{"attributeFQN":"tenant~brand","isHidden":false,"isMultiValue":false,"attributeDetail":{"valueType":"Predefined","inputType":"List","dataType":"String","usageType":"Property","dataTypeSequence":46,"name":"Brand","description":"","searchableInStorefront":true,"searchDisplayValue":true,"allowFilteringAndSortingInStorefront":true,"customWeightInStorefrontSearch":false},"values":[{"value":"Bethyl Laboratories®","stringValue":"Bethyl Laboratories®"}],"propertyType":"StandardProperty"},{"attributeFQN":"tenant~conjugate-type","isHidden":false,"isMultiValue":false,"attributeDetail":{"valueType":"Predefined","inputType":"List","dataType":"String","usageType":"Property","dataTypeSequence":26,"name":"Conjugate","description":"","searchableInStorefront":true,"searchDisplayValue":true,"allowFilteringAndSortingInStorefront":true,"customWeightInStorefrontSearch":false},"values":[{"value":"HRP","stringValue":"HRP"}],"propertyType":"StandardProperty"},{"attributeFQN":"tenant~alt-target","isHidden":true,"isMultiValue":false,"attributeDetail":{"valueType":"AdminEntered","inputType":"TextBox","dataType":"String","usageType":"Property","dataTypeSequence":17,"name":"AltTarget","description":"","searchableInStorefront":true,"allowFilteringAndSortingInStorefront":true,"customWeightInStorefrontSearch":false},"values":[{"value":"Albumin","stringValue":"Albumin"}],"propertyType":"StandardProperty"},{"attributeFQN":"tenant~amount","isHidden":false,"isMultiValue":false,"attributeDetail":{"valueType":"AdminEntered","inputType":"TextBox","dataType":"String","usageType":"Property","dataTypeSequence":24,"name":"Amount","description":"","searchDisplayValue":true,"allowFilteringAndSortingInStorefront":true,"customWeightInStorefrontSearch":false},"values":[{"value":"1 ml","stringValue":"1 ml"}],"propertyType":"StandardProperty"},{"attributeFQN":"tenant~spec-sheet-links","isHidden":false,"isMultiValue":false,"attributeDetail":{"valueType":"AdminEntered","inputType":"TextArea","dataType":"String","usageType":"Property","dataTypeSequence":64,"name":"Spec Sheet Links","description":"","allowFilteringAndSortingInStorefront":true,"customWeightInStorefrontSearch":false},"values":[{"value":"810d5f560d40c56d7cd44d98f8c4168d43186fd8|540961794","stringValue":"810d5f560d40c56d7cd44d98f8c4168d43186fd8|5409617945d85ade62e185f65e3343d803f93831|13a1eff47971409d5edd3eef01f6f4c92cfbceff|eb9811bba0ffa7ffacd730a69cb1bb6b6ba95421|f5ee49f20a4a6e2d6b7929f5eeb6a244a735e0bb|a7702319a85acd56a7865ab19ca4ed247d6fab36|2c11a237d502993e4f19d6637199976dae2ad53c"}],"propertyType":"StandardProperty"},{"attributeFQN":"tenant~protein-name","isHidden":false,"isMultiValue":false,"attributeDetail":{"valueType":"AdminEntered","inputType":"TextBox","dataType":"String","usageType":"Property","dataTypeSequence":70,"name":"ProteinName","description":"","searchableInStorefront":true,"searchDisplayValue":true,"allowFilteringAndSortingInStorefront":true,"customWeightInStorefrontSearch":false},"values":[{"value":"Serum albumin","stringValue":"Serum albumin"}],"propertyType":"StandardProperty"},{"attributeFQN":"tenant~antigen-species","isHidden":false,"isMultiValue":false,"attributeDetail":{"valueType":"Predefined","inputType":"List","dataType":"String","usageType":"Property","dataTypeSequence":29,"name":"Antigen Species","description":"","searchDisplayValue":true,"allowFilteringAndSortingInStorefront":true,"customWeightInStorefrontSearch":false},"values":[{"value":"Mouse","stringValue":"Mouse"}],"propertyType":"StandardProperty"},{"attributeFQN":"tenant~stock-behavior","isHidden":true,"isMultiValue":false,"attributeDetail":{"valueType":"Predefined","inputType":"List","dataType":"String","usageType":"Property","dataTypeSequence":68,"name":"Stock Behavior","description":"","allowFilteringAndSortingInStorefront":true,"customWeightInStorefrontSearch":false},"values":[{"value":"AcceptBackorder","stringValue":"AcceptBackorder"}],"propertyType":"StandardProperty"},{"attributeFQN":"tenant~citation-count","isHidden":false,"isMultiValue":false,"attributeDetail":{"valueType":"AdminEntered","inputType":"TextBox","dataType":"Number","usageType":"Property","dataTypeSequence":7,"name":"CitationCount","description":"","searchDisplayValue":true,"allowFilteringAndSortingInStorefront":true,"customWeightInStorefrontSearch":false},"values":[{"value":1}],"propertyType":"StandardProperty"},{"attributeFQN":"tenant~purity","isHidden":false,"isMultiValue":false,"attributeDetail":{"valueType":"Predefined","inputType":"List","dataType":"String","usageType":"Property","dataTypeSequence":74,"name":"Purity","description":"","searchDisplayValue":true,"allowFilteringAndSortingInStorefront":true,"customWeightInStorefrontSearch":false},"values":[{"value":"Antigen Affinity Purified","stringValue":"Antigen Affinity Purified"}],"propertyType":"StandardProperty"},{"attributeFQN":"tenant~related-products","isHidden":false,"isMultiValue":false,"attributeDetail":{"valueType":"AdminEntered","inputType":"TextBox","dataType":"String","usageType":"Property","dataTypeSequence":12,"name":"Related Products","description":"","searchableInStorefront":true,"searchDisplayValue":true,"allowFilteringAndSortingInStorefront":true,"customWeightInStorefrontSearch":false},"values":[{"value":"A90-134|A90-134A|A90-134B|A90-134P|A90-135|A90-234","stringValue":"A90-134|A90-134A|A90-134B|A90-134P|A90-135|A90-234A|A90-234B|A90-234F"}],"propertyType":"StandardProperty"},{"attributeFQN":"tenant~related-secondaries","isHidden":false,"isMultiValue":false,"attributeDetail":{"valueType":"AdminEntered","inputType":"TextBox","dataType":"String","usageType":"Property","dataTypeSequence":14,"name":"Related Secondaries","description":"","searchableInStorefront":true,"searchDisplayValue":true,"allowFilteringAndSortingInStorefront":true,"customWeightInStorefrontSearch":false},"values":[{"value":"A50-100P|A50-101P|A50-200F|A50-200P|A50-201P","stringValue":"A50-100P|A50-101P|A50-200F|A50-200P|A50-201P"}],"propertyType":"StandardProperty"},{"attributeFQN":"tenant~application-dilution-range","isHidden":false,"isMultiValue":false,"attributeDetail":{"valueType":"AdminEntered","inputType":"TextArea","dataType":"String","usageType":"Property","dataTypeSequence":31,"name":"Application Dilution Range","description":"","searchDisplayValue":true,"allowFilteringAndSortingInStorefront":true,"customWeightInStorefrontSearch":false},"values":[{"value":"[{\u0022Application\u0022:\u0022WB\u0022,\u0022ApplicationDilutionRange\u0022:\u00221","stringValue":"[{\u0022Application\u0022:\u0022WB\u0022,\u0022ApplicationDilutionRange\u0022:\u00221:1,000 - 1:30,000\u0022},{\u0022Application\u0022:\u0022IHC\u0022,\u0022ApplicationDilutionRange\u0022:\u00221:100 - 1:250\u0022},{\u0022Application\u0022:\u0022ICC\u0022,\u0022ApplicationDilutionRange\u0022:\u00221:100 - 1:250\u0022},{\u0022Application\u0022:\u0022ELISA\u0022,\u0022ApplicationDilutionRange\u0022:\u00221:10,000 - 1:50,000\u0022}]"}],"propertyType":"StandardProperty"},{"attributeFQN":"tenant~application-text","isHidden":false,"isMultiValue":false,"attributeDetail":{"valueType":"AdminEntered","inputType":"TextBox","dataType":"String","usageType":"Property","dataTypeSequence":32,"name":"Application Text","description":"","searchDisplayValue":true,"allowFilteringAndSortingInStorefront":true,"customWeightInStorefrontSearch":false},"values":[{"value":"Not all listed applications have been specifically","stringValue":"Not all listed applications have been specifically tested by our laboratory."}],"propertyType":"StandardProperty"},{"attributeFQN":"tenant~stock-concentration","isHidden":false,"isMultiValue":false,"attributeDetail":{"valueType":"AdminEntered","inputType":"TextBox","dataType":"String","usageType":"Property","dataTypeSequence":73,"name":"Stock Concentration","description":"","searchDisplayValue":true,"allowFilteringAndSortingInStorefront":true,"customWeightInStorefrontSearch":false},"values":[{"value":"0.5 mg/ml","stringValue":"0.5 mg/ml"}],"propertyType":"StandardProperty"},{"attributeFQN":"tenant~applications","isHidden":false,"isMultiValue":true,"attributeDetail":{"valueType":"Predefined","inputType":"List","dataType":"String","usageType":"Property","dataTypeSequence":33,"name":"Application","description":"","searchDisplayValue":true,"allowFilteringAndSortingInStorefront":true,"customWeightInStorefrontSearch":false},"values":[{"value":"ELISA","stringValue":"ELISA"},{"value":"WB","stringValue":"WB"},{"value":"ICC","stringValue":"ICC"},{"value":"IHC","stringValue":"IHC"}],"propertyType":"StandardProperty"},{"attributeFQN":"tenant~storage","isHidden":false,"isMultiValue":false,"attributeDetail":{"valueType":"Predefined","inputType":"List","dataType":"String","usageType":"Property","dataTypeSequence":11,"name":"Storage","description":"","searchDisplayValue":true,"allowFilteringAndSortingInStorefront":true,"customWeightInStorefrontSearch":false},"values":[{"value":"2 - 8 °C","stringValue":"2 - 8 °C"}],"propertyType":"StandardProperty"},{"attributeFQN":"tenant~symbol","isHidden":false,"isMultiValue":false,"attributeDetail":{"valueType":"AdminEntered","inputType":"TextBox","dataType":"String","usageType":"Property","dataTypeSequence":13,"name":"Symbol","description":"","searchableInStorefront":true,"searchDisplayValue":true,"allowFilteringAndSortingInStorefront":true,"customWeightInStorefrontSearch":false},"values":[{"value":"Alb","stringValue":"Alb"}],"propertyType":"StandardProperty"},{"attributeFQN":"tenant~sds-links","isHidden":false,"isMultiValue":false,"attributeDetail":{"valueType":"AdminEntered","inputType":"TextArea","dataType":"String","usageType":"Property","dataTypeSequence":42,"name":"SDS Links","description":"","allowFilteringAndSortingInStorefront":true,"customWeightInStorefrontSearch":false},"values":[{"value":"5b0f68133a1a7938837b5e2897fc1c61e984fc6c","stringValue":"5b0f68133a1a7938837b5e2897fc1c61e984fc6c"}],"propertyType":"StandardProperty"},{"attributeFQN":"tenant~target","isHidden":false,"isMultiValue":false,"attributeDetail":{"valueType":"AdminEntered","inputType":"TextBox","dataType":"String","usageType":"Property","dataTypeSequence":18,"name":"Target","description":"","searchDisplayValue":true,"allowFilteringAndSortingInStorefront":true,"customWeightInStorefrontSearch":false},"values":[{"value":"Mouse Albumin","stringValue":"Mouse Albumin"}],"propertyType":"StandardProperty"},{"attributeFQN":"tenant~current-lot","isHidden":false,"isMultiValue":false,"attributeDetail":{"valueType":"AdminEntered","inputType":"TextBox","dataType":"String","usageType":"Property","dataTypeSequence":38,"name":"Current Lot","description":"","searchableInStorefront":true,"searchDisplayValue":true,"allowFilteringAndSortingInStorefront":true,"customWeightInStorefrontSearch":false},"values":[{"value":"19","stringValue":"19"}],"propertyType":"StandardProperty"},{"attributeFQN":"tenant~shelf-life","isHidden":false,"isMultiValue":false,"attributeDetail":{"valueType":"Predefined","inputType":"List","dataType":"String","usageType":"Property","dataTypeSequence":52,"name":"Shelf Life","description":"","searchDisplayValue":true,"allowFilteringAndSortingInStorefront":true,"customWeightInStorefrontSearch":false},"values":[{"value":"1 year from date of receipt","stringValue":"1 year from date of receipt"}],"propertyType":"StandardProperty"},{"attributeFQN":"tenant~taxonomy-id","isHidden":false,"isMultiValue":false,"attributeDetail":{"valueType":"Predefined","inputType":"List","dataType":"String","usageType":"Property","dataTypeSequence":35,"name":"TaxonomyID","description":"","searchDisplayValue":true,"allowFilteringAndSortingInStorefront":true,"customWeightInStorefrontSearch":false},"values":[{"value":"10090","stringValue":"10090"}],"propertyType":"StandardProperty"},{"attributeFQN":"tenant~sku-status","isHidden":true,"isMultiValue":false,"attributeDetail":{"valueType":"Predefined","inputType":"List","dataType":"String","usageType":"Property","dataTypeSequence":56,"name":"SKU status","description":"","allowFilteringAndSortingInStorefront":true,"customWeightInStorefrontSearch":false},"values":[{"value":"Active","stringValue":"Active"}],"propertyType":"StandardProperty"},{"attributeFQN":"tenant~format","isHidden":false,"isMultiValue":false,"attributeDetail":{"valueType":"Predefined","inputType":"List","dataType":"String","usageType":"Property","dataTypeSequence":57,"name":"Format","description":"","searchDisplayValue":true,"allowFilteringAndSortingInStorefront":true,"customWeightInStorefrontSearch":false},"values":[{"value":"Whole IgG","stringValue":"Whole IgG"}],"propertyType":"StandardProperty"},{"attributeFQN":"tenant~uniprot-id","isHidden":false,"isMultiValue":false,"attributeDetail":{"valueType":"AdminEntered","inputType":"TextBox","dataType":"String","usageType":"Property","dataTypeSequence":45,"name":"UniprotID","description":"","searchableInStorefront":true,"searchDisplayValue":true,"allowFilteringAndSortingInStorefront":true,"customWeightInStorefrontSearch":false},"values":[{"value":"P07724","stringValue":"P07724"}],"propertyType":"StandardProperty"},{"attributeFQN":"tenant~buffer","isHidden":false,"isMultiValue":false,"attributeDetail":{"valueType":"AdminEntered","inputType":"TextBox","dataType":"String","usageType":"Property","dataTypeSequence":51,"name":"Buffer","description":"","searchDisplayValue":true,"allowFilteringAndSortingInStorefront":true,"customWeightInStorefrontSearch":false},"values":[{"value":"Phosphate Buffered Saline (PBS) containing 0.2% BS","stringValue":"Phosphate Buffered Saline (PBS) containing 0.2% BSA and 0.05% Pro-Clean 400"}],"propertyType":"StandardProperty"},{"attributeFQN":"tenant~iso-type","isHidden":false,"isMultiValue":false,"attributeDetail":{"valueType":"Predefined","inputType":"List","dataType":"String","usageType":"Property","dataTypeSequence":25,"name":"IsoType","description":"","searchDisplayValue":true,"allowFilteringAndSortingInStorefront":true,"customWeightInStorefrontSearch":false},"values":[{"value":"IgG","stringValue":"IgG"}],"propertyType":"StandardProperty"},{"attributeFQN":"tenant~gene-aliases","isHidden":false,"isMultiValue":false,"attributeDetail":{"valueType":"AdminEntered","inputType":"TextBox","dataType":"String","usageType":"Property","dataTypeSequence":61,"name":"GeneAliases","description":"","searchableInStorefront":true,"searchDisplayValue":true,"allowFilteringAndSortingInStorefront":true,"customWeightInStorefrontSearch":false},"values":[{"value":"Alb1, Alb-1, albumin 1, BCL002, serum albumin","stringValue":"Alb1, Alb-1, albumin 1, BCL002, serum albumin"}],"propertyType":"StandardProperty"},{"attributeFQN":"tenant~gene-id","isHidden":false,"isMultiValue":false,"attributeDetail":{"valueType":"AdminEntered","inputType":"TextBox","dataType":"String","usageType":"Property","dataTypeSequence":65,"name":"GeneID","description":"","searchDisplayValue":true,"allowFilteringAndSortingInStorefront":true,"customWeightInStorefrontSearch":false},"values":[{"value":"11657","stringValue":"11657"}],"propertyType":"StandardProperty"},{"attributeFQN":"tenant~minimum-species","isHidden":false,"isMultiValue":false,"attributeDetail":{"valueType":"Predefined","inputType":"List","dataType":"String","usageType":"Property","dataTypeSequence":28,"name":"Minimum Reactivity Species","description":"","searchDisplayValue":true,"allowFilteringAndSortingInStorefront":true,"customWeightInStorefrontSearch":false},"values":[{"value":"bovine,human,pig","stringValue":"bovine,human,pig"}],"propertyType":"StandardProperty"},{"attributeFQN":"tenant~verified-reactivity","isHidden":false,"isMultiValue":true,"attributeDetail":{"valueType":"Predefined","inputType":"List","dataType":"String","usageType":"Property","dataTypeSequence":59,"name":"Verified Reactivity","description":"","searchableInStorefront":true,"searchDisplayValue":true,"allowFilteringAndSortingInStorefront":true,"customWeightInStorefrontSearch":false},"values":[{"value":"Mouse","stringValue":"Mouse"}],"propertyType":"StandardProperty"},{"attributeFQN":"tenant~gene-name","isHidden":false,"isMultiValue":false,"attributeDetail":{"valueType":"AdminEntered","inputType":"TextBox","dataType":"String","usageType":"Property","dataTypeSequence":69,"name":"GeneName","description":"","searchableInStorefront":true,"searchDisplayValue":true,"allowFilteringAndSortingInStorefront":true,"customWeightInStorefrontSearch":false},"values":[{"value":"albumin","stringValue":"albumin"}],"propertyType":"StandardProperty"},{"attributeFQN":"tenant~host","isHidden":false,"isMultiValue":false,"attributeDetail":{"valueType":"Predefined","inputType":"List","dataType":"String","usageType":"Property","dataTypeSequence":72,"name":"Host","description":"","searchDisplayValue":true,"allowFilteringAndSortingInStorefront":true,"customWeightInStorefrontSearch":false},"values":[{"value":"Goat","stringValue":"Goat"}],"propertyType":"StandardProperty"},{"attributeFQN":"tenant~web-category","isHidden":false,"isMultiValue":false,"attributeDetail":{"valueType":"AdminEntered","inputType":"TextBox","dataType":"String","usageType":"Property","dataTypeSequence":63,"name":"Web Category","description":"","searchDisplayValue":true,"allowFilteringAndSortingInStorefront":true,"customWeightInStorefrontSearch":false},"values":[{"value":"Primary","stringValue":"Primary"}],"propertyType":"StandardProperty"},{"attributeFQN":"tenant~productnamelong","isHidden":false,"isMultiValue":false,"attributeDetail":{"valueType":"AdminEntered","inputType":"TextBox","dataType":"String","usageType":"Property","dataTypeSequence":62,"name":"ProductNameLong","description":"","searchableInStorefront":true,"searchDisplayValue":true,"allowFilteringAndSortingInStorefront":true,"customWeightInStorefrontSearch":false},"values":[{"value":"Bethyl Laboratories® Goat anti-Mouse Albumin Cross","stringValue":"Bethyl Laboratories® Goat anti-Mouse Albumin Cross-Adsorbed Antibody HRP Conjugated - 0.5 mg"}],"propertyType":"StandardProperty"},{"attributeFQN":"tenant~physical-state","isHidden":false,"isMultiValue":false,"attributeDetail":{"valueType":"Predefined","inputType":"List","dataType":"String","usageType":"Property","dataTypeSequence":39,"name":"Physical State","description":"","searchDisplayValue":true,"allowFilteringAndSortingInStorefront":true,"customWeightInStorefrontSearch":false},"values":[{"value":"Liquid","stringValue":"Liquid"}],"propertyType":"StandardProperty"},{"attributeFQN":"tenant~clonality","isHidden":false,"isMultiValue":false,"attributeDetail":{"valueType":"Predefined","inputType":"List","dataType":"String","usageType":"Property","dataTypeSequence":15,"name":"Clonality","description":"","searchableInStorefront":true,"searchDisplayValue":true,"allowFilteringAndSortingInStorefront":true,"customWeightInStorefrontSearch":false},"values":[{"value":"Polyclonal","stringValue":"Polyclonal"}],"propertyType":"StandardProperty"},{"attributeFQN":"tenant~web-quantity-standard","isHidden":false,"isMultiValue":false,"attributeDetail":{"valueType":"AdminEntered","inputType":"TextBox","dataType":"String","usageType":"Property","dataTypeSequence":71,"name":"Web Quantity-standard","description":"","searchDisplayValue":true,"allowFilteringAndSortingInStorefront":true,"customWeightInStorefrontSearch":false},"values":[{"value":"0.5 mg","stringValue":"0.5 mg"}],"propertyType":"StandardProperty"},{"attributeFQN":"tenant~productnameshort","isHidden":false,"isMultiValue":false,"attributeDetail":{"valueType":"AdminEntered","inputType":"TextBox","dataType":"String","usageType":"Property","dataTypeSequence":66,"name":"ProductNameShort","description":"","searchableInStorefront":true,"searchDisplayValue":true,"allowFilteringAndSortingInStorefront":true,"customWeightInStorefrontSearch":false},"values":[{"value":"Goat anti-Mouse Albumin Cross-Adsorbed Antibody HR","stringValue":"Goat anti-Mouse Albumin Cross-Adsorbed Antibody HRP Conjugated"}],"propertyType":"StandardProperty"},{"attributeFQN":"tenant~prodprocedures-1","isHidden":false,"isMultiValue":false,"attributeDetail":{"valueType":"AdminEntered","inputType":"TextBox","dataType":"String","usageType":"Property","dataTypeSequence":54,"name":"Prod Procedures","description":"","searchDisplayValue":true,"allowFilteringAndSortingInStorefront":true,"customWeightInStorefrontSearch":false},"values":[{"value":"Antiserum was cross adsorbed using bovine, human a","stringValue":"Antiserum was cross adsorbed using bovine, human and pig immunosorbents to remove cross reactive Antibodies. The antibody to mouse albumin was isolated by affinity chromatography using antigen coupled to agarose beads and conjugated to horseradish peroxidase (HRP).\u003cbr\u003e\u003cbr\u003eAntibody concentration was determined by extinction coefficient prior to conjugation: absorbance at 280 nm of 1.4 equals 1.0 mg of IgG. Molar enzyme: antibody protein ratio is 1:1.\u003cbr\u003e\u003cbr\u003eBy immunoelectrophoresis and ELISA this antibody reacts specifically with mouse albumin. Less than 2% cross reactivity to bovine, human and pig albumin was detected. This antibody may cross react with albumin from other species."}],"propertyType":"StandardProperty"}],"options":[],"variations":[],"validPriceLists":[],"locationsInStock":[],"productImageGroups":[],"productCollections":[],"productCollectionMembers":[],"collectionMembersProductContent":[]}
Goat anti-Mouse Albumin Cross-Adsorbed Antibody HRP Conjugated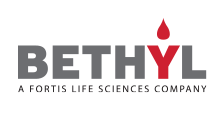 Bethyl Laboratories® Catalog # A90-234P
Purity:
Antigen Affinity Purified
For ordering information, see our International Distributors
Product Details
Specifications
Minimum Reactivity Species
1 year from date of receipt
Antiserum was cross adsorbed using bovine, human and pig immunosorbents to remove cross reactive Antibodies. The antibody to mouse albumin was isolated by affinity chromatography using antigen coupled to agarose beads and conjugated to horseradish peroxidase (HRP).

Antibody concentration was determined by extinction coefficient prior to conjugation: absorbance at 280 nm of 1.4 equals 1.0 mg of IgG. Molar enzyme: antibody protein ratio is 1:1.

By immunoelectrophoresis and ELISA this antibody reacts specifically with mouse albumin. Less than 2% cross reactivity to bovine, human and pig albumin was detected. This antibody may cross react with albumin from other species.
Fortis Guarantee
Guaranteed Performance, Excellent Service!
Gene & Protein Information
Alternate Names
Alb1, Alb-1, albumin 1, BCL002, serum albumin
Applications
Not all listed applications have been specifically tested by our laboratory.