System.Dynamic.ExpandoObject
{"mainImage":{"src":"//cdn-tp1.mozu.com/31165-51694/cms/51694/files/56888333-428a-406e-b5db-093a10a9773b","imageLabel":null,"altText":"Detection of human Ki-67 by immunohistochemistry.","imageUrl":"//cdn-tp1.mozu.com/31165-51694/cms/51694/files/56888333-428a-406e-b5db-093a10a9773b","cmsId":"56888333-428a-406e-b5db-093a10a9773b","videoUrl":null,"mediaType":null,"sequence":1,"productImageGroupId":"default"},"url":"/rabbit-anti-ki-67-ihc-antibody/p/BETHYL-IHC-00395","hasPriceRange":true,"content":{"productImages":[{"src":"//cdn-tp1.mozu.com/31165-51694/cms/51694/files/56888333-428a-406e-b5db-093a10a9773b","imageLabel":null,"altText":"Detection of human Ki-67 by immunohistochemistry.","imageUrl":"//cdn-tp1.mozu.com/31165-51694/cms/51694/files/56888333-428a-406e-b5db-093a10a9773b","cmsId":"56888333-428a-406e-b5db-093a10a9773b","videoUrl":null,"mediaType":null,"sequence":1,"productImageGroupId":"default"}],"productName":"Rabbit anti-Ki-67 IHC Antibody","metaTagTitle":"Rabbit anti-Ki-67 IHC Antibody","metaTagDescription":"","seoFriendlyUrl":"rabbit-anti-ki-67-ihc-antibody"},"categories":[{"url":"/primary-antibodies/c/13","categoryId":13,"content":{"categoryImages":[],"name":"Primary Antibodies","description":"","pageTitle":"","metaTagTitle":"Buy Primary Antibodies","metaTagDescription":"Browse our complete range of validated secondary antibodies available for purchase. Filter through antibodies by target, application, host and more","metaTagKeywords":"","slug":"primary-antibodies"},"childrenCategories":[],"parentCategoryId":12,"sequence":1,"isDisplayed":true,"categoryCode":"primary-antibodies","count":0},{"url":"/trial-size-antibodies/c/17","categoryId":17,"content":{"categoryImages":[],"name":"Trial Size Antibodies","description":"","pageTitle":"","metaTagTitle":"Buy Trial Size Antibodies","metaTagDescription":"Browse our complete range of validated trial size antibodies available for purchase. Filter through primary antibodies by target, application, host and more","metaTagKeywords":"","slug":"trial-size-antibodies"},"childrenCategories":[],"parentCategoryId":12,"sequence":5,"isDisplayed":true,"categoryCode":"trial-size","count":0},{"url":"/oncology/c/31","categoryId":31,"content":{"categoryImages":[],"name":"Oncology","description":"","pageTitle":"","metaTagTitle":"Buy Antibodies for Oncology Research","metaTagDescription":"Browse an extensive catalog of rigorously validated recombinant antibodies for identifying immune-cell and tumor markers, T-cell markers and immune checkpoints","metaTagKeywords":"","slug":"oncology"},"childrenCategories":[],"parentCategoryId":26,"sequence":5,"isDisplayed":true,"categoryCode":"oncology","count":0}],"priceRange":{"lower":{"onSale":false,"price":121.0,"priceType":"List","catalogListPrice":121.0,"effectivePricelistCode":"BETHYL","priceListEntryCode":"BETHYL","priceListEntryMode":"Simple"},"upper":{"onSale":false,"price":459.0,"priceType":"List","catalogListPrice":459.0,"effectivePricelistCode":"BETHYL","priceListEntryCode":"BETHYL","priceListEntryMode":"Simple"}},"volumePriceBands":[],"productCode":"BETHYL-IHC-00395","productSequence":5047,"productUsage":"Configurable","fulfillmentTypesSupported":["DirectShip"],"goodsType":"Physical","bundledProducts":[],"purchasableState":{"isPurchasable":false,"messages":[{"severity":"Info","source":"ConfigurableProduct","message":"Not done configuring","validationType":"IncompleteProductConfiguration"}]},"isActive":true,"publishState":"Live","availableShippingDiscounts":[],"productType":"Antibody-Configurable","productTypeId":3,"isTaxable":true,"pricingBehavior":{"discountsRestricted":false,"discountsRestrictedStartDate":null,"discountsRestrictedEndDate":null},"inventoryInfo":{"manageStock":true,"outOfStockBehavior":"AllowBackOrder","onlineLocationCode":"51694"},"createDate":"2021-10-14T03:04:02.566Z","updateDate":"2021-12-03T19:41:35.137Z","dateFirstAvailableInCatalog":"2021-01-01T00:00:00Z","daysAvailableInCatalog":338,"upCs":[],"mfgPartNumber":"[{\u0022productCode\u0022:\u0022IHC-00395\u0022,\u0022priority\u0022:1},{\u0022productCode\u0022:\u0022IHC-00395-T\u0022,\u0022priority\u0022:2}]","mfgPartNumbers":[],"measurements":{"packageWeight":{"unit":"lbs","value":1.0}},"properties":[{"attributeFQN":"tenant~product-type","isHidden":false,"isMultiValue":false,"attributeDetail":{"valueType":"Predefined","inputType":"List","dataType":"String","usageType":"Property","dataTypeSequence":58,"name":"Product Type","description":"","searchableInStorefront":true,"searchDisplayValue":true,"allowFilteringAndSortingInStorefront":true,"customWeightInStorefrontSearch":false},"values":[{"value":"Antibody","stringValue":"Antibody"}],"propertyType":"StandardProperty"},{"attributeFQN":"tenant~brand","isHidden":false,"isMultiValue":false,"attributeDetail":{"valueType":"Predefined","inputType":"List","dataType":"String","usageType":"Property","dataTypeSequence":46,"name":"Brand","description":"","searchableInStorefront":true,"searchDisplayValue":true,"allowFilteringAndSortingInStorefront":true,"customWeightInStorefrontSearch":false},"values":[{"value":"Bethyl Laboratories®","stringValue":"Bethyl Laboratories®"}],"propertyType":"StandardProperty"},{"attributeFQN":"tenant~citation-count","isHidden":false,"isMultiValue":false,"attributeDetail":{"valueType":"AdminEntered","inputType":"TextBox","dataType":"Number","usageType":"Property","dataTypeSequence":7,"name":"CitationCount","description":"","searchDisplayValue":true,"allowFilteringAndSortingInStorefront":true,"customWeightInStorefrontSearch":false},"values":[{"value":3}],"propertyType":"StandardProperty"},{"attributeFQN":"tenant~antigen-species","isHidden":false,"isMultiValue":false,"attributeDetail":{"valueType":"Predefined","inputType":"List","dataType":"String","usageType":"Property","dataTypeSequence":29,"name":"Antigen Species","description":"","searchDisplayValue":true,"allowFilteringAndSortingInStorefront":true,"customWeightInStorefrontSearch":false},"values":[{"value":"Human","stringValue":"Human"}],"propertyType":"StandardProperty"},{"attributeFQN":"tenant~host","isHidden":false,"isMultiValue":false,"attributeDetail":{"valueType":"Predefined","inputType":"List","dataType":"String","usageType":"Property","dataTypeSequence":72,"name":"Host","description":"","searchDisplayValue":true,"allowFilteringAndSortingInStorefront":true,"customWeightInStorefrontSearch":false},"values":[{"value":"Rabbit","stringValue":"Rabbit"}],"propertyType":"StandardProperty"},{"attributeFQN":"tenant~IHC-test-materials","isHidden":false,"isMultiValue":false,"attributeDetail":{"valueType":"AdminEntered","inputType":"TextBox","dataType":"String","usageType":"Property","dataTypeSequence":75,"name":"IHC Test Materials","description":"","searchDisplayValue":true,"allowFilteringAndSortingInStorefront":true,"customWeightInStorefrontSearch":false},"values":[{"value":"Human Breast Carcinoma,Human Colon Carcinoma,Human","stringValue":"Human Breast Carcinoma,Human Colon Carcinoma,Human Linitis Plastica Stomach Cancer,Human Ovarian Carcinoma,Human Pancreatic Islet Cell Tumor,Human Prostate Carcinoma,Human Skin Squamous Cell Carcinoma,Human Stomach Adenocarcinoma,Human Testicular Seminoma"}],"propertyType":"StandardProperty"},{"attributeFQN":"tenant~application-text","isHidden":false,"isMultiValue":false,"attributeDetail":{"valueType":"AdminEntered","inputType":"TextBox","dataType":"String","usageType":"Property","dataTypeSequence":32,"name":"Application Text","description":"","searchDisplayValue":true,"allowFilteringAndSortingInStorefront":true,"customWeightInStorefrontSearch":false},"values":[{"value":"Epitope exposure is recommended. Epitope exposure ","stringValue":"Epitope exposure is recommended. Epitope exposure with tris-EDTA pH9.0 buffer will enhance staining. Likely to work with frozen sections. In some cases, the antibody may be diluted further than indicated."}],"propertyType":"StandardProperty"},{"attributeFQN":"tenant~image-links","isHidden":false,"isMultiValue":false,"attributeDetail":{"valueType":"AdminEntered","inputType":"TextArea","dataType":"String","usageType":"Property","dataTypeSequence":16,"name":"Image Links","description":"","allowFilteringAndSortingInStorefront":true,"customWeightInStorefrontSearch":false},"values":[{"value":"ce01654c8f135f120d40c53430b324584394bc25","stringValue":"ce01654c8f135f120d40c53430b324584394bc25"}],"propertyType":"StandardProperty"},{"attributeFQN":"tenant~shelf-life","isHidden":false,"isMultiValue":false,"attributeDetail":{"valueType":"Predefined","inputType":"List","dataType":"String","usageType":"Property","dataTypeSequence":52,"name":"Shelf Life","description":"","searchDisplayValue":true,"allowFilteringAndSortingInStorefront":true,"customWeightInStorefrontSearch":false},"values":[{"value":"1 year from date of receipt","stringValue":"1 year from date of receipt"}],"propertyType":"StandardProperty"},{"attributeFQN":"tenant~applications","isHidden":false,"isMultiValue":true,"attributeDetail":{"valueType":"Predefined","inputType":"List","dataType":"String","usageType":"Property","dataTypeSequence":33,"name":"Application","description":"","searchDisplayValue":true,"allowFilteringAndSortingInStorefront":true,"customWeightInStorefrontSearch":false},"values":[{"value":"IHC","stringValue":"IHC"}],"propertyType":"StandardProperty"},{"attributeFQN":"tenant~protein-name","isHidden":false,"isMultiValue":false,"attributeDetail":{"valueType":"AdminEntered","inputType":"TextBox","dataType":"String","usageType":"Property","dataTypeSequence":70,"name":"ProteinName","description":"","searchableInStorefront":true,"searchDisplayValue":true,"allowFilteringAndSortingInStorefront":true,"customWeightInStorefrontSearch":false},"values":[{"value":"Antigen KI-67","stringValue":"Antigen KI-67"}],"propertyType":"StandardProperty"},{"attributeFQN":"tenant~stock-behavior","isHidden":false,"isMultiValue":false,"attributeDetail":{"valueType":"Predefined","inputType":"List","dataType":"String","usageType":"Property","dataTypeSequence":68,"name":"Stock Behavior","description":"","allowFilteringAndSortingInStorefront":true,"customWeightInStorefrontSearch":false},"values":[{"value":"AcceptBackorder","stringValue":"AcceptBackorder"}],"propertyType":"StandardProperty"},{"attributeFQN":"tenant~immunogen","isHidden":false,"isMultiValue":false,"attributeDetail":{"valueType":"AdminEntered","inputType":"TextBox","dataType":"String","usageType":"Property","dataTypeSequence":21,"name":"Immunogen","description":"","searchDisplayValue":true,"allowFilteringAndSortingInStorefront":true,"customWeightInStorefrontSearch":false},"values":[{"value":"Between 1800 and 1850","stringValue":"Between 1800 and 1850"}],"propertyType":"StandardProperty"},{"attributeFQN":"tenant~storage","isHidden":false,"isMultiValue":false,"attributeDetail":{"valueType":"Predefined","inputType":"List","dataType":"String","usageType":"Property","dataTypeSequence":11,"name":"Storage","description":"","searchDisplayValue":true,"allowFilteringAndSortingInStorefront":true,"customWeightInStorefrontSearch":false},"values":[{"value":"2 - 8 °C","stringValue":"2 - 8 °C"}],"propertyType":"StandardProperty"},{"attributeFQN":"tenant~iso-type","isHidden":false,"isMultiValue":false,"attributeDetail":{"valueType":"Predefined","inputType":"List","dataType":"String","usageType":"Property","dataTypeSequence":25,"name":"IsoType","description":"","searchDisplayValue":true,"allowFilteringAndSortingInStorefront":true,"customWeightInStorefrontSearch":false},"values":[{"value":"IgG","stringValue":"IgG"}],"propertyType":"StandardProperty"},{"attributeFQN":"tenant~current-lot","isHidden":false,"isMultiValue":false,"attributeDetail":{"valueType":"AdminEntered","inputType":"TextBox","dataType":"String","usageType":"Property","dataTypeSequence":38,"name":"Current Lot","description":"","searchableInStorefront":true,"searchDisplayValue":true,"allowFilteringAndSortingInStorefront":true,"customWeightInStorefrontSearch":false},"values":[{"value":"1","stringValue":"1"}],"propertyType":"StandardProperty"},{"attributeFQN":"tenant~symbol","isHidden":false,"isMultiValue":false,"attributeDetail":{"valueType":"AdminEntered","inputType":"TextBox","dataType":"String","usageType":"Property","dataTypeSequence":13,"name":"Symbol","description":"","searchableInStorefront":true,"searchDisplayValue":true,"allowFilteringAndSortingInStorefront":true,"customWeightInStorefrontSearch":false},"values":[{"value":"MKI67","stringValue":"MKI67"}],"propertyType":"StandardProperty"},{"attributeFQN":"tenant~target","isHidden":false,"isMultiValue":false,"attributeDetail":{"valueType":"AdminEntered","inputType":"TextBox","dataType":"String","usageType":"Property","dataTypeSequence":18,"name":"Target","description":"","searchDisplayValue":true,"allowFilteringAndSortingInStorefront":true,"customWeightInStorefrontSearch":false},"values":[{"value":"Ki-67","stringValue":"Ki-67"}],"propertyType":"StandardProperty"},{"attributeFQN":"tenant~gene-aliases","isHidden":false,"isMultiValue":false,"attributeDetail":{"valueType":"AdminEntered","inputType":"TextBox","dataType":"String","usageType":"Property","dataTypeSequence":61,"name":"GeneAliases","description":"","searchableInStorefront":true,"searchDisplayValue":true,"allowFilteringAndSortingInStorefront":true,"customWeightInStorefrontSearch":false},"values":[{"value":"antigen identified by monoclonal antibody Ki-67, a","stringValue":"antigen identified by monoclonal antibody Ki-67, antigen Ki67, Antigen KI-67, KIA, MIB-, MIB-1, PPP1R105, proliferation marker protein Ki-67, proliferation-related Ki-67 antigen, protein phosphatase 1,  regulatory subunit 105"}],"propertyType":"StandardProperty"},{"attributeFQN":"tenant~target-sentence","isHidden":false,"isMultiValue":false,"attributeDetail":{"valueType":"AdminEntered","inputType":"TextBox","dataType":"String","usageType":"Property","dataTypeSequence":22,"name":"TargetSentence","description":"","searchableInStorefront":true,"searchDisplayValue":true,"allowFilteringAndSortingInStorefront":true,"customWeightInStorefrontSearch":false},"values":[{"value":"Ki-67 is a marker of cell proliferation detected i","stringValue":"Ki-67 is a marker of cell proliferation detected in cells that are in G1-, S-, G2-, and M-phase of the cell cycle and absent in cells in G0. Ki-67 is detected exclusively in the nucleus, and its detection by immunohistological methods has proven to have diagnostic and prognostic value in the study of a variety of human tumors. The specific cellular functions of Ki-67 have not been elucidated, but it is proposed to function in the organization and maintenance of the architecture of DNA and in the synthesis of ribosomes during mitosis."}],"propertyType":"StandardProperty"},{"attributeFQN":"tenant~gene-id","isHidden":false,"isMultiValue":false,"attributeDetail":{"valueType":"AdminEntered","inputType":"TextBox","dataType":"String","usageType":"Property","dataTypeSequence":65,"name":"GeneID","description":"","searchDisplayValue":true,"allowFilteringAndSortingInStorefront":true,"customWeightInStorefrontSearch":false},"values":[{"value":"4288","stringValue":"4288"}],"propertyType":"StandardProperty"},{"attributeFQN":"tenant~research","isHidden":false,"isMultiValue":true,"attributeDetail":{"valueType":"Predefined","inputType":"List","dataType":"String","usageType":"Property","dataTypeSequence":19,"name":"Research","description":"","searchableInStorefront":true,"allowFilteringAndSortingInStorefront":true,"customWeightInStorefrontSearch":false},"values":[{"value":"Cell Cycle","stringValue":"Cell Cycle"},{"value":"Kinase/Phosphatase","stringValue":"Kinase/Phosphatase"},{"value":"Meiosis","stringValue":"Meiosis"}],"propertyType":"StandardProperty"},{"attributeFQN":"tenant~purity","isHidden":false,"isMultiValue":false,"attributeDetail":{"valueType":"Predefined","inputType":"List","dataType":"String","usageType":"Property","dataTypeSequence":74,"name":"Purity","description":"","searchDisplayValue":true,"allowFilteringAndSortingInStorefront":true,"customWeightInStorefrontSearch":false},"values":[{"value":"Antigen Affinity Purified","stringValue":"Antigen Affinity Purified"}],"propertyType":"StandardProperty"},{"attributeFQN":"tenant~gene-name","isHidden":false,"isMultiValue":false,"attributeDetail":{"valueType":"AdminEntered","inputType":"TextBox","dataType":"String","usageType":"Property","dataTypeSequence":69,"name":"GeneName","description":"","searchableInStorefront":true,"searchDisplayValue":true,"allowFilteringAndSortingInStorefront":true,"customWeightInStorefrontSearch":false},"values":[{"value":"marker of proliferation Ki-67","stringValue":"marker of proliferation Ki-67"}],"propertyType":"StandardProperty"},{"attributeFQN":"tenant~taxonomy-id","isHidden":false,"isMultiValue":false,"attributeDetail":{"valueType":"Predefined","inputType":"List","dataType":"String","usageType":"Property","dataTypeSequence":35,"name":"TaxonomyID","description":"","searchDisplayValue":true,"allowFilteringAndSortingInStorefront":true,"customWeightInStorefrontSearch":false},"values":[{"value":"9606","stringValue":"9606"}],"propertyType":"StandardProperty"},{"attributeFQN":"tenant~related-products","isHidden":false,"isMultiValue":false,"attributeDetail":{"valueType":"AdminEntered","inputType":"TextBox","dataType":"String","usageType":"Property","dataTypeSequence":12,"name":"Related Products","description":"","searchableInStorefront":true,"searchDisplayValue":true,"allowFilteringAndSortingInStorefront":true,"customWeightInStorefrontSearch":false},"values":[{"value":"A700-021|IHC-00375","stringValue":"A700-021|IHC-00375"}],"propertyType":"StandardProperty"},{"attributeFQN":"tenant~sds-links","isHidden":false,"isMultiValue":false,"attributeDetail":{"valueType":"AdminEntered","inputType":"TextArea","dataType":"String","usageType":"Property","dataTypeSequence":42,"name":"SDS Links","description":"","allowFilteringAndSortingInStorefront":true,"customWeightInStorefrontSearch":false},"values":[{"value":"a6ce5b94772a08c95a38b5e10f6a2d2b7198305b","stringValue":"a6ce5b94772a08c95a38b5e10f6a2d2b7198305b"}],"propertyType":"StandardProperty"},{"attributeFQN":"tenant~format","isHidden":false,"isMultiValue":false,"attributeDetail":{"valueType":"Predefined","inputType":"List","dataType":"String","usageType":"Property","dataTypeSequence":57,"name":"Format","description":"","searchDisplayValue":true,"allowFilteringAndSortingInStorefront":true,"customWeightInStorefrontSearch":false},"values":[{"value":"Whole IgG","stringValue":"Whole IgG"}],"propertyType":"StandardProperty"},{"attributeFQN":"tenant~related-secondaries","isHidden":false,"isMultiValue":false,"attributeDetail":{"valueType":"AdminEntered","inputType":"TextBox","dataType":"String","usageType":"Property","dataTypeSequence":14,"name":"Related Secondaries","description":"","searchableInStorefront":true,"searchDisplayValue":true,"allowFilteringAndSortingInStorefront":true,"customWeightInStorefrontSearch":false},"values":[{"value":"A120-100P|A120-101D4|A120-101F|A120-101P|A120-108P","stringValue":"A120-100P|A120-101D4|A120-101F|A120-101P|A120-108P|A120-114F|A120-201D2|A120-201D3|A120-201D4|A120-201D5|A120-201P|A120-208P|A120-401P|A120-501F|A120-501P"}],"propertyType":"StandardProperty"},{"attributeFQN":"tenant~verified-reactivity","isHidden":false,"isMultiValue":true,"attributeDetail":{"valueType":"Predefined","inputType":"List","dataType":"String","usageType":"Property","dataTypeSequence":59,"name":"Verified Reactivity","description":"","searchableInStorefront":true,"searchDisplayValue":true,"allowFilteringAndSortingInStorefront":true,"customWeightInStorefrontSearch":false},"values":[{"value":"Human","stringValue":"Human"}],"propertyType":"StandardProperty"},{"attributeFQN":"tenant~trial-size-available","isHidden":false,"isMultiValue":false,"attributeDetail":{"valueType":"Predefined","inputType":"List","dataType":"String","usageType":"Property","dataTypeSequence":40,"name":"Trial Size Available","description":"","searchableInStorefront":true,"searchDisplayValue":true,"allowFilteringAndSortingInStorefront":true,"customWeightInStorefrontSearch":false},"values":[{"value":"Yes","stringValue":"Yes"}],"propertyType":"StandardProperty"},{"attributeFQN":"tenant~uniprot-id","isHidden":false,"isMultiValue":false,"attributeDetail":{"valueType":"AdminEntered","inputType":"TextBox","dataType":"String","usageType":"Property","dataTypeSequence":45,"name":"UniprotID","description":"","searchableInStorefront":true,"searchDisplayValue":true,"allowFilteringAndSortingInStorefront":true,"customWeightInStorefrontSearch":false},"values":[{"value":"P46013","stringValue":"P46013"}],"propertyType":"StandardProperty"},{"attributeFQN":"tenant~web-category","isHidden":false,"isMultiValue":false,"attributeDetail":{"valueType":"AdminEntered","inputType":"TextBox","dataType":"String","usageType":"Property","dataTypeSequence":63,"name":"Web Category","description":"","searchDisplayValue":true,"allowFilteringAndSortingInStorefront":true,"customWeightInStorefrontSearch":false},"values":[{"value":"Primary","stringValue":"Primary"}],"propertyType":"StandardProperty"},{"attributeFQN":"tenant~validation-text","isHidden":false,"isMultiValue":false,"attributeDetail":{"valueType":"AdminEntered","inputType":"TextArea","dataType":"String","usageType":"Property","dataTypeSequence":50,"name":"Validation Text","description":"","searchDisplayValue":true,"allowFilteringAndSortingInStorefront":true,"customWeightInStorefrontSearch":false},"values":[{"value":"\u003cp\u003eAll Bethyl Laboratories\u0026#174; antibodies are va","stringValue":"\u003cp\u003eAll Bethyl Laboratories\u0026#174; antibodies are validated to meet our strict performance standards.\u003c/p\u003e"}],"propertyType":"StandardProperty"},{"attributeFQN":"tenant~productnamelong","isHidden":false,"isMultiValue":false,"attributeDetail":{"valueType":"AdminEntered","inputType":"TextBox","dataType":"String","usageType":"Property","dataTypeSequence":62,"name":"ProductNameLong","description":"","searchableInStorefront":true,"searchDisplayValue":true,"allowFilteringAndSortingInStorefront":true,"customWeightInStorefrontSearch":false},"values":[{"value":""}],"propertyType":"StandardProperty"},{"attributeFQN":"tenant~clonality","isHidden":false,"isMultiValue":false,"attributeDetail":{"valueType":"Predefined","inputType":"List","dataType":"String","usageType":"Property","dataTypeSequence":15,"name":"Clonality","description":"","searchableInStorefront":true,"searchDisplayValue":true,"allowFilteringAndSortingInStorefront":true,"customWeightInStorefrontSearch":false},"values":[{"value":"Polyclonal","stringValue":"Polyclonal"}],"propertyType":"StandardProperty"},{"attributeFQN":"tenant~productnameshort","isHidden":false,"isMultiValue":false,"attributeDetail":{"valueType":"AdminEntered","inputType":"TextBox","dataType":"String","usageType":"Property","dataTypeSequence":66,"name":"ProductNameShort","description":"","searchableInStorefront":true,"searchDisplayValue":true,"allowFilteringAndSortingInStorefront":true,"customWeightInStorefrontSearch":false},"values":[{"value":"Rabbit anti-Ki-67 IHC Antibody","stringValue":"Rabbit anti-Ki-67 IHC Antibody"}],"propertyType":"StandardProperty"},{"attributeFQN":"tenant~spec-sheet-links","isHidden":false,"isMultiValue":false,"attributeDetail":{"valueType":"AdminEntered","inputType":"TextArea","dataType":"String","usageType":"Property","dataTypeSequence":64,"name":"Spec Sheet Links","description":"","allowFilteringAndSortingInStorefront":true,"customWeightInStorefrontSearch":false},"values":[{"value":"2fe7cb80f89dd5a7002928a98b35528f515bea59","stringValue":"2fe7cb80f89dd5a7002928a98b35528f515bea59"},{"value":"0023d4f761f730b6f8d5cd1a2955f2bc767844d5","stringValue":"0023d4f761f730b6f8d5cd1a2955f2bc767844d5"}],"propertyType":"VariantProperty"},{"attributeFQN":"tenant~sku-status-text","isHidden":false,"isMultiValue":false,"attributeDetail":{"valueType":"AdminEntered","inputType":"TextBox","dataType":"String","usageType":"Property","dataTypeSequence":60,"name":"SKU Status Text","description":"","searchDisplayValue":true,"allowFilteringAndSortingInStorefront":true,"customWeightInStorefrontSearch":false},"values":[{"value":"Active","stringValue":"Active"}],"propertyType":"VariantProperty"},{"attributeFQN":"tenant~child-priority","isHidden":false,"isMultiValue":false,"attributeDetail":{"valueType":"AdminEntered","inputType":"TextBox","dataType":"Number","usageType":"Property","dataTypeSequence":6,"name":"ChildPriority","description":"","allowFilteringAndSortingInStorefront":true,"customWeightInStorefrontSearch":false},"values":[{"value":2},{"value":1}],"propertyType":"VariantProperty"},{"attributeFQN":"tenant~physical-state-text","isHidden":false,"isMultiValue":false,"attributeDetail":{"valueType":"AdminEntered","inputType":"TextBox","dataType":"String","usageType":"Property","dataTypeSequence":44,"name":"Physical State","description":"","searchDisplayValue":true,"allowFilteringAndSortingInStorefront":true,"customWeightInStorefrontSearch":false},"values":[{"value":"Liquid","stringValue":"Liquid"}],"propertyType":"VariantProperty"},{"attributeFQN":"tenant~buffer","isHidden":false,"isMultiValue":false,"attributeDetail":{"valueType":"AdminEntered","inputType":"TextBox","dataType":"String","usageType":"Property","dataTypeSequence":51,"name":"Buffer","description":"","searchDisplayValue":true,"allowFilteringAndSortingInStorefront":true,"customWeightInStorefrontSearch":false},"values":[{"value":"Tris-buffered Saline containing 0.1% BSA and 0.09%","stringValue":"Tris-buffered Saline containing 0.1% BSA and 0.09% Sodium Azide"}],"propertyType":"VariantProperty"},{"attributeFQN":"tenant~amount","isHidden":false,"isMultiValue":false,"attributeDetail":{"valueType":"AdminEntered","inputType":"TextBox","dataType":"String","usageType":"Property","dataTypeSequence":24,"name":"Amount","description":"","searchDisplayValue":true,"allowFilteringAndSortingInStorefront":true,"customWeightInStorefrontSearch":false},"values":[{"value":"10 µl","stringValue":"10 µl"},{"value":"100 µl","stringValue":"100 µl"}],"propertyType":"VariantProperty"},{"attributeFQN":"tenant~stock-concentration","isHidden":false,"isMultiValue":false,"attributeDetail":{"valueType":"AdminEntered","inputType":"TextBox","dataType":"String","usageType":"Property","dataTypeSequence":73,"name":"Stock Concentration","description":"","searchDisplayValue":true,"allowFilteringAndSortingInStorefront":true,"customWeightInStorefrontSearch":false},"values":[{"value":"250 µg/ml","stringValue":"250 µg/ml"}],"propertyType":"VariantProperty"},{"attributeFQN":"tenant~application-dilution-range","isHidden":false,"isMultiValue":false,"attributeDetail":{"valueType":"AdminEntered","inputType":"TextArea","dataType":"String","usageType":"Property","dataTypeSequence":31,"name":"Application Dilution Range","description":"","searchDisplayValue":true,"allowFilteringAndSortingInStorefront":true,"customWeightInStorefrontSearch":false},"values":[{"value":"[{\u0022Application\u0022:\u0022IHC\u0022,\u0022ApplicationDilutionRange\u0022:\u0022","stringValue":"[{\u0022Application\u0022:\u0022IHC\u0022,\u0022ApplicationDilutionRange\u0022:\u00221:100 - 1:500\u0022}]"}],"propertyType":"VariantProperty"},{"attributeFQN":"tenant~prodprocedures-1","isHidden":false,"isMultiValue":false,"attributeDetail":{"valueType":"AdminEntered","inputType":"TextBox","dataType":"String","usageType":"Property","dataTypeSequence":54,"name":"Prod Procedures","description":"","searchDisplayValue":true,"allowFilteringAndSortingInStorefront":true,"customWeightInStorefrontSearch":false},"values":[{"value":"Antibody was affinity purified using an epitope sp","stringValue":"Antibody was affinity purified using an epitope specific to Ki-67 immobilized on solid support.\u003cbr\u003e\u003cbr\u003eThe epitope recognized by IHC-00395-T maps to a region between residues 1800 and 1850 of human Ki-67 using the numbering given in entry NP_002408.2 (GeneID 4288)."}],"propertyType":"VariantProperty"},{"attributeFQN":"tenant~variant-product-name","isHidden":false,"isMultiValue":false,"attributeDetail":{"valueType":"AdminEntered","inputType":"TextBox","dataType":"String","usageType":"Property","dataTypeSequence":53,"name":"Variant Product Name","description":"","searchableInStorefront":true,"searchDisplayValue":true,"allowFilteringAndSortingInStorefront":true,"customWeightInStorefrontSearch":false},"values":[{"value":"Bethyl Laboratories® Rabbit anti-Ki-67 IHC Antibod","stringValue":"Bethyl Laboratories® Rabbit anti-Ki-67 IHC Antibody, Affinity Purified - 10 µl (5+ slides)"}],"propertyType":"VariantProperty"}],"options":[{"attributeFQN":"tenant~web-quantity","isRequired":true,"isMultiValue":false,"values":[{"value":"100 µl (50+ slides)","attributeValueId":402,"stringValue":"100 µl (50+ slides)","isEnabled":true,"isSelected":false},{"value":"10 µl (5+ slides)","attributeValueId":387,"stringValue":"10 µl (5+ slides)","isEnabled":true,"isSelected":false}],"attributeDetail":{"valueType":"Predefined","inputType":"List","dataType":"String","usageType":"Option","dataTypeSequence":67,"name":"Web Quantity","description":"","searchDisplayValue":true,"allowFilteringAndSortingInStorefront":true,"customWeightInStorefrontSearch":false},"isProductImageGroupSelector":false}],"variations":[{"productCode":"IHC-00395","options":[{"valueSequence":402,"attributeFQN":"tenant~web-quantity","value":"100 µl (50+ slides)"},{"valueSequence":0,"attributeFQN":"tenant~child-priority","value":1}],"inventoryInfo":{"manageStock":true,"outOfStockBehavior":"AllowBackOrder","onlineStockAvailable":135,"onlineSoftStockAvailable":135,"onlineLocationCode":"51694"}},{"productCode":"IHC-00395-T","options":[{"valueSequence":387,"attributeFQN":"tenant~web-quantity","value":"10 µl (5+ slides)"},{"valueSequence":0,"attributeFQN":"tenant~child-priority","value":2}],"inventoryInfo":{"manageStock":true,"outOfStockBehavior":"AllowBackOrder","onlineStockAvailable":10,"onlineSoftStockAvailable":10,"onlineLocationCode":"51694"}}],"validPriceLists":[],"locationsInStock":[],"productImageGroups":[],"productCollections":[],"productCollectionMembers":[],"collectionMembersProductContent":[]}
Rabbit anti-Ki-67 IHC Antibody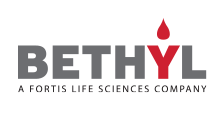 Bethyl Laboratories® Catalog #
Immunogen:
Between 1800 and 1850
Purity:
Antigen Affinity Purified
For ordering information, see our International Distributors
Product Details
Specifications
1 year from date of receipt
Antibody was affinity purified using an epitope specific to Ki-67 immobilized on solid support.

The epitope recognized by IHC-00395-T maps to a region between residues 1800 and 1850 of human Ki-67 using the numbering given in entry NP_002408.2 (GeneID 4288).
Fortis Guarantee
Guaranteed Performance, Excellent Service!
Gene & Protein Information
Ki-67 is a marker of cell proliferation detected in cells that are in G1-, S-, G2-, and M-phase of the cell cycle and absent in cells in G0. Ki-67 is detected exclusively in the nucleus, and its detection by immunohistological methods has proven to have diagnostic and prognostic value in the study of a variety of human tumors. The specific cellular functions of Ki-67 have not been elucidated, but it is proposed to function in the organization and maintenance of the architecture of DNA and in the synthesis of ribosomes during mitosis.
Alternate Names
antigen identified by monoclonal antibody Ki-67, antigen Ki67, Antigen KI-67, KIA, MIB-, MIB-1, PPP1R105, proliferation marker protein Ki-67, proliferation-related Ki-67 antigen, protein phosphatase 1, regulatory subunit 105
Applications
Epitope exposure is recommended. Epitope exposure with tris-EDTA pH9.0 buffer will enhance staining. Likely to work with frozen sections. In some cases, the antibody may be diluted further than indicated.