About Bethyl Laboratories
Bethyl Laboratories, Inc. has been dedicated to improving lives by supporting scientific discovery through its qualified antibody products and custom services since its founding in 1972. Bethyl has a global reputation for quality, consistency and first-class customer care. Every antibody that Bethyl sells is manufactured to exacting standards in Montgomery, Texas, and is validated in-house by Bethyl's team of scientists. From the veterinary facilities to the development, production, and validation labs, the entire Bethyl team focuses on delivering quality products and delighting customers.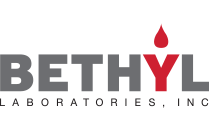 What Bethyl Laboratories offers:
Our scientists oversee the entire antibody production lifecycle, with a sole focus on quality. We use a unique validation and quality control protocol to select for antibodies with the highest sensitivity and minimal cross reactivity. Instead of testing one antibody, we test with paired antibodies raised against distinct protein epitopes. Only antibodies that demonstrate specificity by immunoprecipitation and/or Western blot are advanced for testing in other applications.
Primary antibodies for basic and translational research

Polyclonal: over 9,500 catalog products; offering over 8,200 primary antibodies targeting over 3,300 proteins
Recombinant and monoclonal: 120+ products

Primary antibodies supplied as analyte specific reagents for use in IVD, as well as epitope tag antibodies
1,300 secondary antibodies against 25+ species
Purified proteins, calibrators and controls ELISA kits
Contract recombinant antibody service supporting bio-pharma
Custom polyclonal antibody production